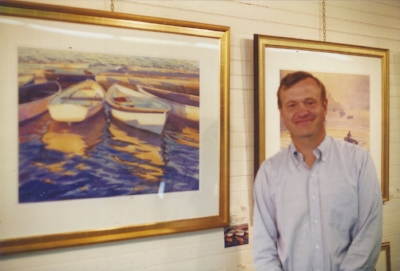 Lee Boynton: October, 1953- April, 2016
Jesus said, I am the light of the world, whoever follows me will never walk in darkness, but will have the light of life.
Lee Boynton carried the light of life! He knew the Lord, the light of the world. The joy of the Lord was his strength.
Lee's art and his faith were closely intertwined. God created Lee to paint, and equipped him for that purpose. Lee learned the poetry of using color to paint the subtle and ever-changing effects of light studying with master Impressionist Henry Hensche at the Cape School of Art in Provincetown, MA. Henry, in his 80s when Lee was a student in his mid twenties, had dedicated his life to faithfully stewarding Claude Monet's theories of color and light, a passion he passed on to Lee.
Lee took all he had learned in the oil medium from Henry and applied it to watercolor. He pioneered techniques for adapting the Impressionist theories of color and light to watercolor, and co-authored Painting the Impressionist Watercolor with Linda Gottlieb, one of his longtime watercolor students.
When Lee would paint, he felt a perfect oneness with the scene before him and also with God, the Creator of all things. Lee would say that when he was painting, he would feel light flowing through his hands into his brush. Painting was effortless, a complete joy — the song of Lee's life.
Instrumental in founding the Mid Atlantic Plein Air Painters Association in 2001, Lee encouraged others to use and develop their artistic gifts. He taught the Impressionist theories of color and light in both the oil and watercolor mediums in classes and workshops for 33 years.